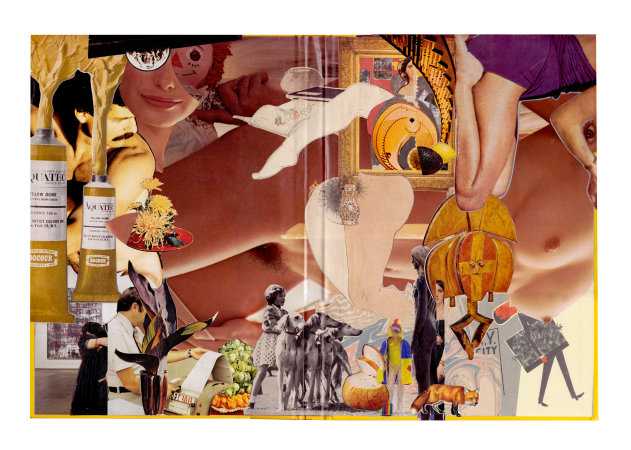 Gold
Burgundy tomatoe, yellow and gold, Navajo blanket stamps and cold cuts, women real and imagined, paint, vegetables and flowers, Isa Gzenken and Ingres, Playboy and Japanese erotica, a mountain of eyes and limbs built atop the 1960 classic "This is New York."
I made each sculpture, or 4-page-book, over the last tumultuous 11 months. After removing all the pages from an old book, I started with a remaining color or image developed the composition outward. I'm most excited when images intertwine and so I would lay new bits under or over each other until I found something new.
At this point, I'd like to something smart about collage, about how it speaks to—and for—me. I see myself in these and I see you, too. I see us in them, these collage-sculptures that came from my table, a surface covered with books and magazines, glue sticks, knifes, and scissors, surrounded by bits of paper falling like confetti from a party inside my head. Actually, I do, sort of. Click on Mail Art Video for a glimpse.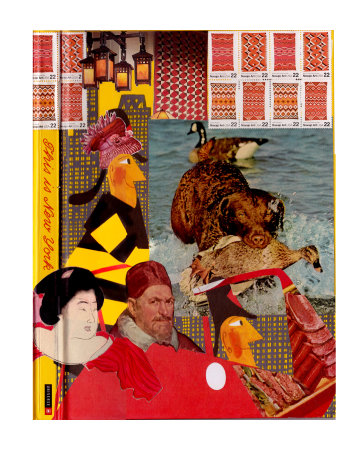 Gold Cover
Collage on book cover
12 x 9 x 1" (closed), 12 x 18 x .5 (open)
4 pages
Unique
2021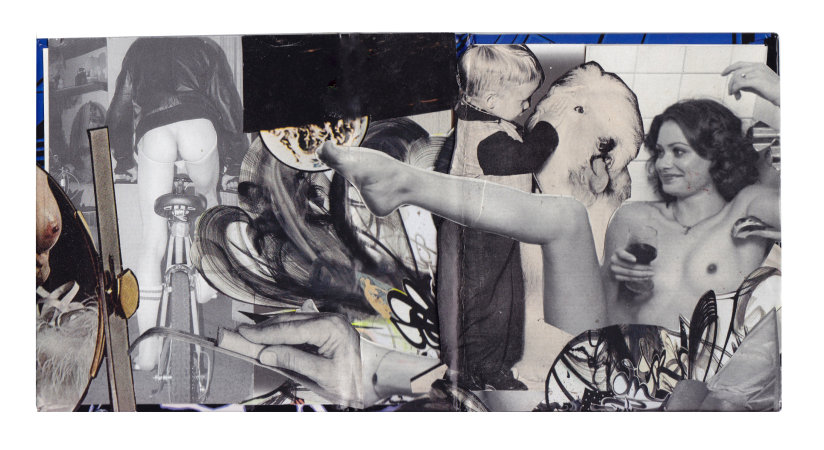 Return
It came with a Happy Meal from McDonalds, a severely abridged version of "Return of the Jedi." Each spread one page of text and the other a two-color illustration. Black, silver, gray, and El Greco. Pets and landing on the moon. Shinique Smith, the "fun" shots in old Playboy magazines, and riding a bike in a jockstrap from Blueboy. It's tiny, boxy, a Pandora's box pre-opened box and without evil.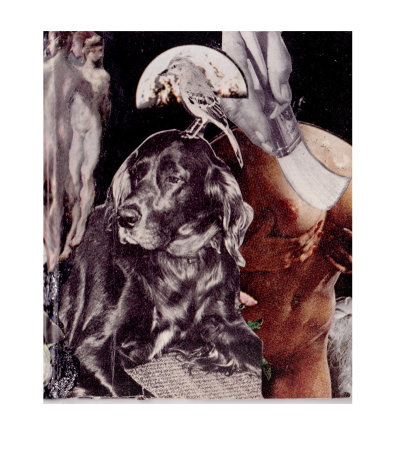 Return Cover
Collage on book cover
4.25 x 4.25 x .1.25" (closed), 4.25 x 8.5 x .25 (open)
4 Pages
Unique
2021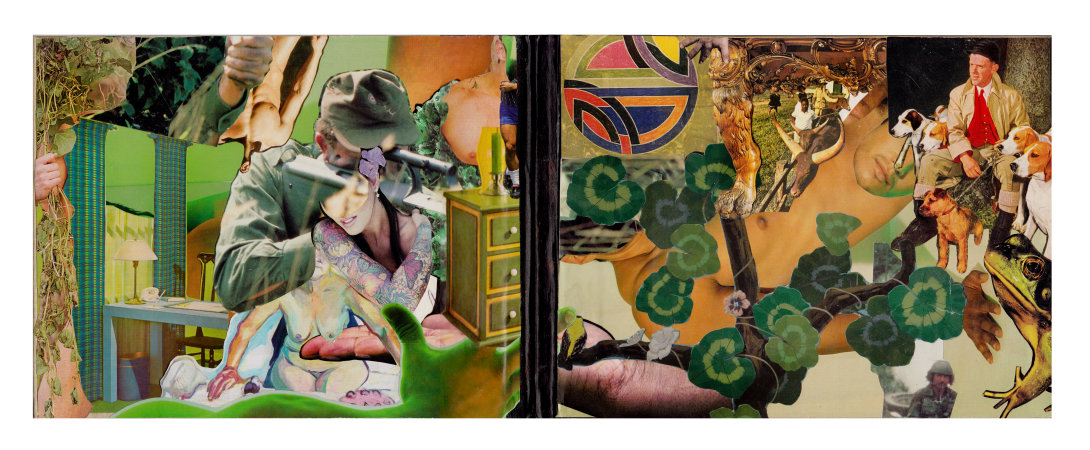 Green
Last summer, after an adventure in medical-mysteriousness, I moved to The Poconos to hide-out. A cold river runs through the town and I went alone to swim as often as possible. It felt so good, the scene was so beautifully lush, I usually teared up. That is a picture of me on the cover of this piece. The interior is inspired by the deep greens that surrounded me: leaves, moss, evergreens overhead. Those are geraniums from Kerry James Marshal and a protractor fragment from Frank Stella, men and frogs, soldiers and Marie Lassnig, too.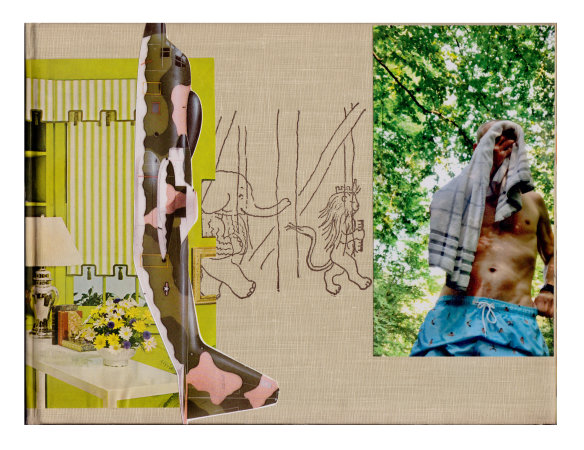 Green Cover
Collage on book cover
7.5 x 9.5 x .4" (closed), 7.5 x 18 x .2" (open)
4 Pages
Unique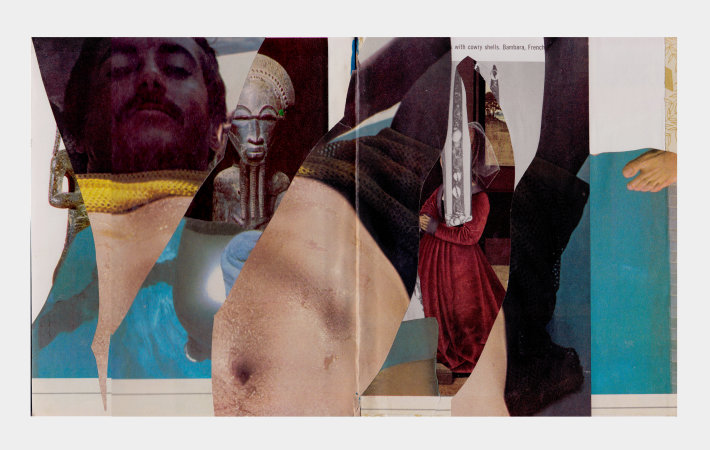 Dino
A dinosaur thrusts his foot into the sea. The male model reaches up sweaty. I step into a river. Sprinkles and ridges, pink and green so far from Preppy. Inside, one of my simplest compositions combining a fantastic swimming pool shoot from Blueboy magazine, the solidity of an African sculpture, and a delicate excerpt from a Jan van Eyck painting.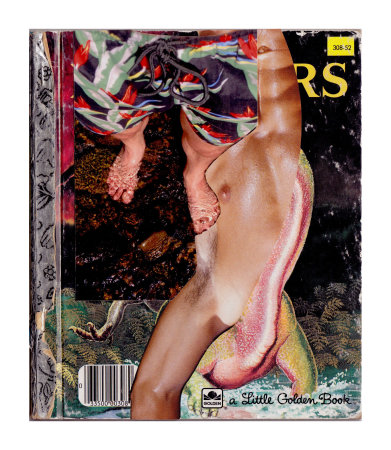 Dino Cover
Collage on book cover
8 x 6.5 x .5" (closed), 8 x 13 x .25 (open)
4 Pages
Unique
2021